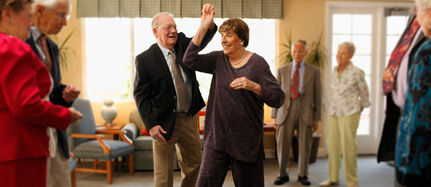 Life at The Villages
The Villages takes a holistic approach to retirement living, building neighborhoods that enhance residents' health and lives within our senior living community. Whether it be by our culinary presentation or our mind/body recreational opportunities, The Villages team nurtures a more independent, worry-free, safe and enjoyable retirement lifestyle on the Central Coast.
Our Communities

All of our neighborhoods were designed with the idea of helping residents stay healthy, active, oriented and socially engaged. All rooms and apartments are designed with convenience, independence and comfort in mind.
Accessible walkways link the communities to patios, courtyards, gardens and fountains. Nearby dining rooms, gathering areas, activity rooms and swimming pools make it easy and convenient to attend events, socialize and exercise at any time, every day.
Active Lifestyle

Our most important job is to provide residents with the opportunity to enhance their lives spiritually, physically, psychologically and socially by providing as many activities and opportunities for peer interaction as possible. With seven full-time activity directors and convenient transportation services, there is never a shortage of new and exciting things to do and people to meet!
At The Villages, we consistently see our residents flourish.