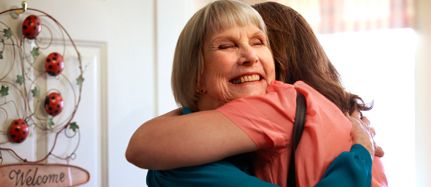 Assisted Living
While all of our retirement living residents enjoy engaged, active lives some require a little more help with life's day-to-day details. Assisted living at Garden Creek provides residents help with those little things so they can spend more time enjoying life.
Whether it's help with cooking, housekeeping, coordinating medication, keeping up with doctor's appointments or just getting around, The Village at Garden Creek provides a wide range of assisted living services for its retirement living residents.
The Villages' wellness team thoughtfully provides the enhanced services needed for its assisted living residents to thrive as independently as possible. It is our commitment to treat our residents with the respect and dignity they deserve.
This community was designed and built with the needs of our residents in mind. The apartments and hallways are all centered around a stately courtyard to assure there is a focal point for movement. Elevators at each side of the building ensure easy access to every residence.
Click here to watch what our residents are saying about Assisted Living at Garden Creek.
The Villages Assisted Living Offers:
• Support with appointments and transportation
• 24-hour caregiver supervision
• Three nutritious meals, plus snacks
• Medication management
• Laundry and housekeeping service
• Assistance as needed with bathing, dressing and personal hygiene
• Private courtyards and gardens
• 24-hour emergency pendant system
• Confidential daily check-ins
• Gas, electric, water, garbage, and cable
• Transportation in the city of San Luis Obispo
• Exercise classes and strength training
• Outings, such as scenic tours
• On-site hair salon
• Greeter program to help residents feel welcome
• Families always welcome