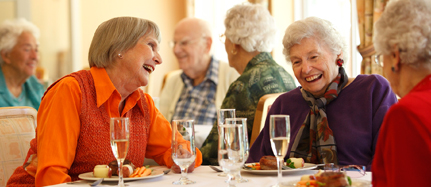 Dining
Family dining is the centerpiece to the wide range of amenities that make up "Neighborhood Living" at The Villages of San Luis Obispo. We strive to make meal times memorable for our residents and their guests. Our well-trained chefs serve a wide variety of diverse, flavorful and healthy foods every day.
Sharing stories and talking with friends over a delicious and balanced meal provides the social interaction and promotes the optimal health that enables our residents to thrive. Chefs at The Villages happily cater to specific doctor-recommended diets for our community of residents.
The dining rooms at The Palms, The Oaks, Garden Creek and Sydney Creek create an at-home atmosphere, with clean and comfortable décor in each that truly make it feel like home. This is an important theme to our residents. Spacious, comfortable dining areas offer relaxing views of the gardens and courtyards while residents enjoy time with friends and family. We invite you to come by for lunch and enjoy for yourself.