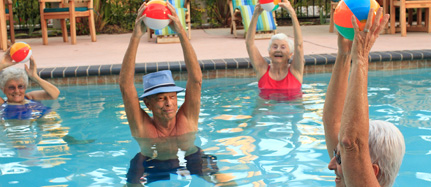 Independent Living
Living at The Villages relieves the worry and stress of keeping up a house, cooking three meals a day and paying bills. Residents enjoy their golden years. The Villages' independent living communities at The Oaks and The Palms allow residents to maintain friendships and family ties; take trips; socialize by the pool; attend events in the Central Coast community; and relax in a comforting, supportive environment.
The Villages transitions residents from their current home to retirement community lifestyle as smoothly as possible. We offer the most spacious one or two bedroom apartments available in San Luis Obispo, most with kitchens and some with patios and creek-side views. We encourage every resident to give their apartment a feeling of "home" by decorating any way they choose and adding their personal touches.
Small pets are also welcomed and often end up being a favorite member of our communities.
Click here to watch what our residents are saying about Independent Living at The Oaks & The Palms.
The Villages retirement living offers:
• 24-hour emergency pendant system
• Confidential daily check-ins
• Buffet breakfast and full-service dinner 7 days-a-week
• Gas, electric, water, garbage
• Transportation anywhere in San Luis Obispo during daily travel times
• Heated swimming pools and spas
• Daily exercise classes and strength training
• Walking distance to shopping and restaurants
• Impeccable gardens and courtyards
• Housekeeping
• On-site hair salon
• Putting green and billiard room
• Greeter program to help residents feel welcome
• Maintenance staff available 6 days a week
• Caring staff who know and serve residents
• Fresh-baked cookies served daily in the sitting room—
a resident (and visitor) favorite!