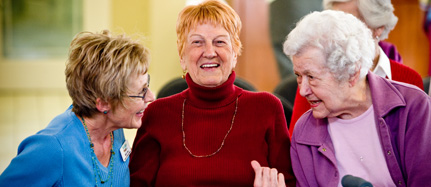 Home Care vs. Retirement Living
The belief that a loved one will be better off staying at home is not necessarily true. Even with 24-hour home care, seniors are still missing some of the most important factors that lead to a healthy, happy life. Contact with peers, opportunities to engage in their hobbies and interests, meeting new people: these elements contribute toward an improved quality of life for seniors.
Home-care services may provide medical care and home upkeep, but often bypass social interaction and daily activity—two things that are paramount to avoiding depression and feelings of lost dignity and independence.
Therefore, The Villages residents thrive for all the right reasons, receiving day-to-day support in every facet of their lives.
1. Maintained Independence
At the Villages, we assist our residents as needed but encourage and support them to remain as independent as possible, always keeping their dignity in mind.
2. Social Interaction
Instead of experiencing feelings of isolation as it becomes difficult to go out, The Villages offers a variety of daily activities to encourage the social interaction and engagement vital to healthy living.
3. Housekeeping
Maintaining a household can be too much. The Villages takes household chores off the to-do list, including laundry in assisted living and memory care.
4. Transportation Provided
Residents go where they need to go (doctor's appointments, church, errands) with the help of our transportation services. The amenities available to our residents allow them to maintain a spirit of independence at The Villages.
5. Nutrition
The Villages executive chefs create delicious meals for our senior living communities. Healthy nutrition is key to peace of mind… and body.
6. Emergency Assistance
Without immediate emergency help available, living at home can be a health and safety risk. The Villages offers 24-hour assistance and emergency call systems in the assisted and memory care communities.
7. Exercise
Exercise keeps everyone healthier. Instead of losing exercise options, The Villages helps improve residents' strength and balance through various exercise opportunities like yoga, tai chi, and aquatic exercise.
8. Medication (Assisted Living and Memory Care)
Should remembering to take medications become challenging, The Villages helps manage this vital daily task, relieving worry from the family and resident.