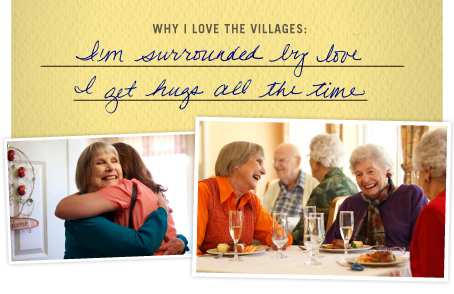 Louise
"I lived in such a perfect place—right in the middle of the state on the coast, so my family could come and visit for the holidays. It got to the point last Christmas, though that I couldn't keep up with the house, let alone getting ready for the holidays."
There was so much to do in my big house – cleaning, bills, laundry, medications, cooking and now the boxes of Christmas decorations. It was just too much. It really depressed me that I didn't have time to go out and buy presents for everyone. Heck, I didn't even have time to stop and talk to my neighbors! My minister and my daughter brought me to The Villages right before New Year's to check it out. At first I was so angry! Where would I put all of the stuff I needed in a one bedroom apartment, and where would my family stay during visits!? It didn't take long though before I settled in. I was surrounded by love, and I couldn't help but feel at home. I feel like everybody is family here and now I have an extended family. And my family still comes to visit they can stay in the bed and breakfast right here on campus or stay at one of the hotels in the area, which is actually a treat for them since San Luis Obispo is so wonderful to visit.
One other thing I found out was that I could get a hug here. I never realized how much I love them, and now it's not a full morning unless I get five in before lunch.
My daughter was so worried about me back in December, but in the few short months since, I have put on 40 much needed pounds, and I can think so much more clearly now! It feels so good to be able to remember more and explain things so much easier. As a testament to how wonderful and happy I feel, I would have never imagined this last year, but to celebrate my 80th birthday my daughter took me to Disneyland!